Every day's a holiday! more

Activity Summary

Reviews Written: 308
Member Visits: 21,380
Total Visits: 700,780




About henry_thoreau
(Some of) my opinions categorized:
Welcome to my Walden!

Henry David Thoreau manifested one of my strongest inclinations:
a lifelong love of daylong leisure.



Epinions name: "henry_thoreau"

Real name: Michael/Mike

Location: metro Kansas City (Olathe, Kansas)

Age: 59

Gender/orientation/complexion: Male/straight/white (and respectful of everybody's rights and feelings).

Marital status: Divorced; no dependents--'ceptin' dogs, now and again. (Pretty well set in my ways.)

Occupation: "Funemployment"! [In early 1997 (at age 43) I said "good riddance" to the workaday world, thereby fulfilling a long-cherished, Thoreauvian dream.]

Preoccupations: Reading (both printed and audio books); writing; relishing sundry electronic gizmos; collecting/listening to music--including "classical" (virtually all periods, genres, and composers), most jazz (including mellow "dixieland"), and pop oldies (especially 1960s & '70s); playing video games, pool, miniature golf, electronic darts, and robotic chess in my home's adjoining "game" and "snack-bar" rooms; web surfing; bicycling around town (instead of always driving); hiking forests or fishing lakes (occasionally); watching home-theater shows; owning a plethora of "home gym" machines; and enjoying dogs of all sizes.

In 2012 I finalized two more "home-improvement" projects. First, I completed the conversion of the finished half of the basement into a substantial "classical music library & theater" (showcasing myriad reference tomes and--especially--full-length composer biographies). Secondly, I converted one of the upstairs bedrooms into a dedicated "den" (showcasing some of my other favored nonfiction genres). Thus--including the aforementioned game-room/snack-bar facility that I completed in 2010--
I now have three full-blown "man caves" to forestall ennui.
Life could be worse.




"A wise man is he who does not grieve for the things that he has not, but rejoices for those that he has." ~Epictetus




Sayings of Henry David Thoreau


(1817-1862)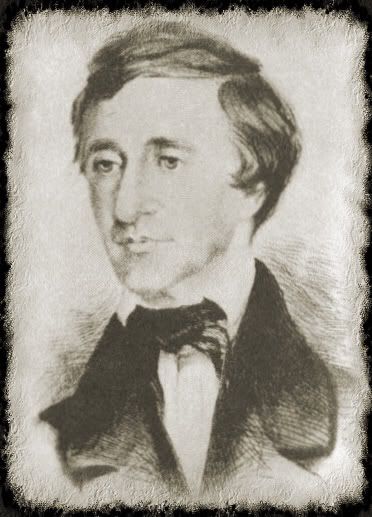 "Let everyone mind his own business,
and endeavor to be what he was made."

"Man is the artificer of his own happiness."

"Every generation laughs at the old fashions,
but follows religiously the new."

"What people say you cannot do,
you try and find that you can."

"I know of no more encouraging fact than
the unquestioned ability of a man
to elevate his life by conscious endeavor."

"If you have built castles in the air,
your work need not be lost;
that is where they should be.
Now put the foundations under them."

"If one advances confidently in the direction of his dreams,
and endeavors to live the life which he has imagined,
he will meet with a success unexpected in common hours."

"Do not lose hold of your dreams or aspirations.
For if you do,
you may still exist but you have ceased to live."

"Our truest life is when we are in our dreams awake."

"If the day and the night are such
that you greet them with with joy,
and life emits a fragrance like flowers
more elastic, more starry, more immortal--
that is your success."

"Ignorance and bungling with love are better
than wisdom and skill without."

"It's not what you look at that matters, it's what you see."

"You can not perceive beauty but with a serene mind."

"The finest qualities of our nature,
like the bloom on fruits,
can be preserved only by the most delicate handling.
Yet we do not treat ourselves
nor one another thus tenderly."

"My friend is one who takes me for what I am."

"How many a man has dated a new era in his life
from the reading of a book."


---
---