scrapped the countdown again..... more

Activity Summary

Reviews Written: 325
Member Visits: 16,065
Total Visits: 130,120




About sadgit

You are the Fifth Doctor: Your youthful exterior
belies your centuries of experience, and even
you have a bit of difficulty rectifying these
two aspects of your personality. You are
compassionate, introspective, and deeply
troubled by injustice. If you occasionally seem
to display more vulnerability than your
predecessors, it's probably because you're more
openly human than they were. Are your
companions finally rubbing off on you?

Which Incarnation of the Doctor Are You?
brought to you by Quizilla

You're cautious, a bit paranoid. You left the scene for the suburban married life, but somehow, touble seems to follow you and p!ss on your mornings. You are quick to share your point of view, but have no problems with giving in to the requests of wives and wolves.

Take the What Pulp Fiction Character Are You? quiz.




My Mormon name is Takoma Brockston!
What's yours?



Hello, I'm a British Student scrounger named Tom. I study Film and Media, Media Sociology Combined Honours at Preston University (get me out of here!!!!!). I am in my first year (for the third time now), and I have been an Epinions reviewer in Movies and Music for three years now. It made sense to join up, being a film and music lover and all. Epinions is a great site for self-expression, for really defining musical tastes and meeting people with common interests and politics.

Favourite Films: Star Trek IV- The Voyage Home, The Omen, Dark Water, La Femme Nikita, Once Upon a Time in America, Get Carter, Boyz N' the Hood, 2001: A Space Odyssey, Dr. Jekyll & Mr. Hyde, The Time Machine, Sweet Sixteen, Fight Club, Terminator, The Double Life of Veronique, Slacker

Favourite TV Shows: Doctor Who, Dawson's Creek, Star Trek, Buffy the Vampire Slayer, Tenko, Fortunes of War, Our Friends in the North, Till Death Us Do Part, The Girl From Tomorrow, Moonlighting, Cracker, Beavis & Butthead, South Park

Favourite Actors: Iain McDiarmid, Tom Baker, Billie Piper, Robert DeNiro, James Woods, Irene Jacob, Michael Caine, Patrick Stewart, Ed Norton, Nicholas Cage, Gregory Peck, Daveigh Chase

Favourite Directors: Hideo Nakata ("Ringu", "Dark Water"), Alan Clarke ("Scum", "Rita Sue & Bob Too"), Mike Leigh ("Bleak Moments", "Naked", "Secrets & Lies", "Career Girls", "All or Nothing")

Favourite Music: Martika, Cathy Dennis, Fleetwood Mac, ABBA, The Human League, Grandmaster Flash & the Furious Five, Howard Jones, Diana Ross, Heaven 17

Favourite Books: They Shoot Horses Don't They by Horace McCoy, Maul by Tricia Sullivan, Ring by Koji Suzuki, One by David Karp, The Snow Queen by Hans Christian Andersen

Favourite Women: Jeri Ryan, Patty Donahue, Chloe Vevrier, Sophia Loren, Suzie Dent, Cathy Dennis

Favourite Reviewers:

Millinocket: Blame it on my odd mother complex but I always love reading her reviews and comments. From her earliest writings you can see she had potential, put simply she has never written a bad review. She's often sarcastic and sardonic but beneath it all she truly has a heart of gold.

Simply_Crispy: Epinions' very own Maddox! Nothing makes me laugh more than reading his drunken slammings of cinematic turd and his odes to monkeys. He also has great taste in movies. Like me he keeps the British end up and if the pigwigs at epinions let him, he'd give an almighty b!tchslap to all the deserving trash on this site (you know who you are).

Pyfr Just a few months ago he was a spotty newbie, just ripe for picking on. Now he's already one of the top music reviewers on the site. Of the small group of fellow 80's lovers on this site he is the king of the hill: uncliched, alternative and savagely funny- his reviews are so good, they're almost British........ I also can't wait to read his book when it gets published!

Kookytree Another writer keeping the British end up with quality music reviews from his first work onwards, in concert with the odd gripping short story. A shame he's been pretty sporatic of late but absence makes the heart fonder and I always look forward to his work.

Beckytcy One of the bubbliest, most friendly personalities on the site. If you're new to the site, she'll probably be the first to make you feel welcome. She also writes great, user friendly reviews without making them tedious or essay length.


Favourite Reviews:

Cocteau Twins- Heaven or Las Vegas by FilboidStudge

Donnie Darko by dick_dangerous

The Hunger by Anne-Gwish

Jaws The Revenge by desslok

Sophie's Choice by Grouch



As a reviewer I have often specialised in all things depraved and bad taste and best forgotten. Though lately I have felt my work in this field is now complete.

Of course I am talking about....



.


We can dance if we want to
we can leave your friends behind
because your friends don't dance
and if they don't dance
well they're... no friends of mine
I say, we can go where we want to
to a place where they will never find
And we can act like we come from out of this world
Leave the real one far behind



I am a huge fan of 80's music, whether it be Pop music, Punk music, Ska music, R'n'B and Rap music, Electronica music. It brings joy and inspiration to my life to listen to Martika, A-Ha, Prince, Soft Cell, Laura Branigan, Shalamar, The Human League, ABBA, Queen Latifiah, and many more....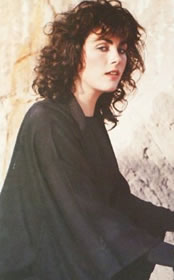 When it comes to 80's movies I love the Star Wars and Back to the Future trilogies, the Star Trek and James Bond films, Terminator, Blade Runner, Children of a Lesser God and Once Upon a Time in America. I especially prefer the cult side of 80's cinema, like Tron, Wild Style, Fort Apache: The Bronx, Escape from New York, The Thing, Manhunter, Return to Oz, The Hitcher and Bad Taste.






I also love my 80's TV. The first season of The Young Ones is one of the funniest shows ever, Miami Vice was the height of cool, Around the World with Willy Fog truly defined the summers of my childhood, Boys from the Blackstuff was a masterpiece of working class docudrama, Live Aid Concert absolutely blew me away by its sheer musicianmship and humanity, and I am overjoyed that Doctor Who is finally back on our screens (And so are the Daleks)!!!





I'm not much of a reader, though I should make more effort to read books, but there are also some books of the 80's I have read and reviewed. With authors like Terry Pratchet, Roald Dahl, Iain Banks, Stephen King, Thomas Harris, William Gibson and Douglas Adams, the 80's produced some classic, avant garde novels that have probably played no small part in inspiring a lot of great cinema since.






Reviews Coming Soon:
Doctor Who- Ambassadors of Death
Doctor Who- The Mind of Evil
Doctor Who- Enlightenment
Doctor Who- Attack of the Cybermen
Doctor Who- The Two Doctors
Doctor Who- The Dalek Factor
Thompson Twins- Into the Gap
Diana Ross- Diana
Siouxsie & The Banshees- Juju
Chaka Khan- I Feel For You
Eric B. & Rakim- Paid in Full
Oranges are Not the Only Fruit by Jeanette Winterson
Pan's Labyrinth
Flight of the Navigator
Heathers
The Hunger
Black Adder II
The Lost Boys
Dirty Pair- OVA Box Set
The Draughtsman's Contract
For Your Eyes Only
Bill & Ted's Excellent Adventure
Doctor Who- New Beginnings