Double the giggles, double the grins, and double the trouble when you're blessed with twins more

Activity Summary

Reviews Written: 233
Member Visits: 14,024
Total Visits: 178,395




snowflake224's Most Popular Reviews
#519 in Web Services: Goes Above and Beyond
#298 in Wellness & Beauty: Non-Drowsy, No Kidding
snowflake224's Author Popularity
#674 Overall
#288 in Home & Garden
#774 in Restaurants & Gourmet
#164 in Web Services
#166 in Wellness & Beauty
About snowflake224
My name is Theresa. I was born and raised in Springfield, Massachusetts. I am 30 years old.

I attended UMass, Amherst for my undergrad until 2003, which is where I met my hubby, Matthew. I attended Springfield College for Grad school until 2005. I am a social worker with my LCSW in Massachusetts and LGSW in Maryland. In my spare time I volunteer at my local hospital, as well as several other organizations.

Matthew and I were married in April 2005. We live in Central Maryland with our son and daughter both born May 2010.

The first picture below is from my wedding. I am holding a picture of my grandmother who is holding her wedding picture. My grandmother was very dear to me.

The second picture is of Matthew and me in a surprise limo after our wedding.
A tribute to my grandmother - my hero, my friend.
Grammy's Webpage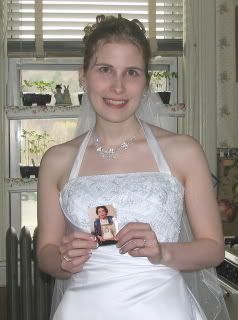 Theresa and her Grandmother
My Sweetheart
Navigating Around Epinions
Epinions official FAQ
Message Board General
New Epinions Reviews